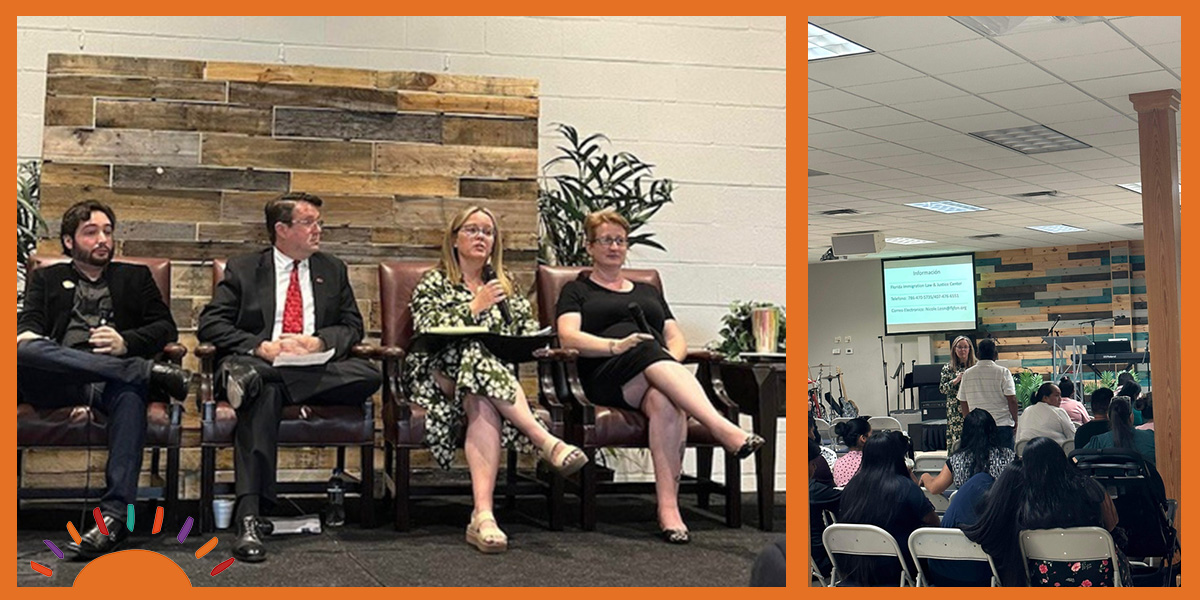 SB 1718, often referred to as Florida's immigration law, went into effect on July 1, 2023. The weeks after it was signed into law and before it was set to go into effect were a busy time for many immigration law practitioners, including Florida Immigration Law and Justice Center. From holding several "Know Your Rights" sessions focused on the effects of SB1718 to participating in townhall meetings addressing the impact and intent of the bill, Florida ILJ's Executive Director, Nicole Leon, was busy trying to inform and protect as many immigrants from the impact of this new law.
The new law, which criminalizes travel by undocumented immigrants into the state of Florida, amongst other things, has been criticized and challenged in a lawsuit filed by Florida civil rights and legal advocacy groups, including the ACLU of Florida, Americans for Immigrant Justice, the Southern Poverty Law Center, and American Immigration Council, in part due to the bills broad and not well-defined use of the term, "inspection," as well as the fact that the state is trying to regulate an area of law which is reserved for the federal government.
Florida ILJ has been participating in bi-weekly meetings sponsored by CLINIC (Catholic Legal Immigration Network) with other Florida-based organizations serving immigrant populations so as to track incidents where the law has been enforced, gathering information as to misinformation within communities so as to correct them, and also to gather points to be discussed and brought up on advocacy efforts for proposed legislation changes.
According to the information gathered during these meetings and following the tracking efforts gathered by the Florida Immigration Council, the majority of enforcement incidents under the new bill have been arrests made of those driving into the state with undocumented aliens. But still, information has been sparse, and enforcement reports are rare.
Earlier this month, we received a call from an immigrant now living in New Jersey asking for advice related to SB1718. He, his wife, and child fled their country of Venezuela and entered the US through the Southern border earlier this year. They intended to come live near Orlando, where they had some family, and informed ICE about their intention when they entered. In June, due to fears about SB1718, they left Florida and moved to New Jersey. The day they called us, they were asking for advice as to whether it was safe for them to fly back to attend their Master Calendar Immigration Court hearings scheduled for the next day. In light of the vagueness of the language of the bill, we had to advise caution in traveling but also let them know about the repercussions of missing their court hearing – which could result in an in-absentia deportation order. This is just one example of how immigrants are being impacted by this law – they risk being detained even when trying to do what is right and be present at their court hearings.
Ultimately, this client did end up coming to Orlando without incident, but the uncertainty of the situation is causing so many to flee or live in fear of seeking out help. Florida, known as "The Sunshine State," has long been a destination for people seeking a better life, a place to call home, and the opportunity to achieve their dreams. Our state's rich cultural tapestry owes much to the diverse backgrounds of the people who have chosen to make Florida their home. It's time that we recognize the contributions made by our immigrant residents rather than creating laws that drive our neighbors away.